It has been a while since I have written about anything other than the Fed Up Challenge or reposting other bloggers' writings.  So I figured it was time for a little current update.  Excuse the randomness.
I am currently training for a half marathon, and have been for the past couple of months.  It is something I have always wanted to do, but could never quite find the time or motivation to actually do or get started with training for one.  But this spring after season was over I decided to put aside the excuses and just do it.  It has been time consuming, and has pretty much eliminated my beloved lifting schedule, but it has definitely been worth it.  To me, there is nothing better than the feeling you get after demolishing a long run.  (Side note: I ran 10.5 miles of Saturday and my calves are still thanking me for it as we speak).  The race is a week from Saturday and I can't wait!!   I also struggle with competitiveness.  Now I know this shouldn't be considered a "struggle", but when it could cause you to die because you want to WIN not just finish a long race, it becomes a struggle.  I think I have finally trained my brain to just be happy with finishing this first one though…we will see come race day when I start scouting out the competition at the start line, and sprint out of the gate.  It is just in my nature as a coach and former college athlete to settle for nothing less than 1st place.
On another note, the past couple of weeks have been loaded with weddings, concerts, and Ranger games.  I am not complaining one bit.  My cousin Shannon got married last weekend to a wonderful man and she looked BEAUTIFUL *tear*
I also attended the concerts of Mat Kearney(My absolute fav since like 2006), and a combo concert with Matt Nathanson, The Fray, and Train.  Mainly went for The Fray, but all three artists put on a great show and the weather was PERFECT!  No rain(finally), and no Texas heat (yet).
Yesterday we went to the Ranger game and let me tell you, I am so glad Hamilton is back!! Not just for the walk off double to center field, but also because I hope that Texas and DFW can be somewhere he can live and thrive as a human being.  I just feel like LA wasn't the place God needed him to be.  It is so good to see him succeeding and gaining his confidence back once again.  Also, no rain, and no heat (yet).
A week from tomorrow my sister and I will be headed to Seattle/Canada to site-see, run the half marathon, and to see the US Women's National Team play in the World Cup!!  I will be marking two things off of my bucket list (half marathon, and World Cup) in the next couple of weeks and I'm ecstatic!  I am a total USWNT groupie, but most of y'all probably know that.  I still want to be on the team "when I grow up", and Mia Hamm will forever be my idol.  There is nothing like US soccer.  NOTHING.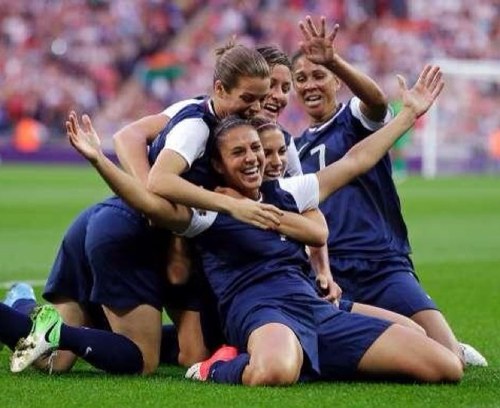 I will cry if they don't win this World Cup(I do every time)…I have been waiting for this since '99.  But they WON'T!!  They're taking it home again, I can feel it!!
Okay I will stop rambling now.  Hope everyone's summer is off to a great start, and congrats to all you teachers for finishing another year of educating our youth!!! We can never thank you enough!! And to all my friends who just finished their first full year of teaching…kudos to you.  I taught some courses at Cameron this past year and I don't know how y'all do it all day every day.  Much respect.